1935 Owen Gurney Nutting Sedanca Derby Bentley
Early history of this 1935 Derby Bentley. In 1919, 2 brothers started "Bentley Motors Limited" in England, Walter Owen (W. O.) Bentley and Horace Millner Bentley. Then in 1931, after the "Bentley Motors Limited" became insolvent, Rolls Royce obtained its assets and in 1933 it created a "new" car called Derby Bentley, eventually coined "The Silent Sports Car". It's mine after restoration.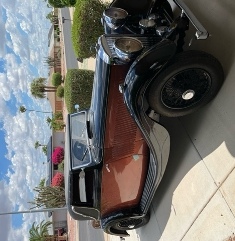 Features, 3 1/2 litre stright 6 engine, dual SU carbs, power assisted front brakes, 4 speed transmission with synchromesh 3rd and 4th gears, unique oiler system for all moving parts, dual ignition coils, adjustable shock absorbers, nickle steel chassis.
Restoration Details
Engine Overhaul
Aluminum Body Restore
New Wool Headliner
Re-veneered Panels
Fully Re-chromed
Leather Restoration
Black and Copper Brown